The sales keep coming! Today and tomorrow (9/10/20) THREE WIDOWS AND A CORPSE ebook is on sale for only $0.99. Talk about a deal. 🙂
What people are saying about THREE WIDOWS AND A CORPSE.
Emotionally charged and full of shady connections, this is a book about moving forward and dealing with life's difficult situations head-on . . . You may want to read this book while waiting for a few of the delicious recipes included to bake up.
~Laura's Interests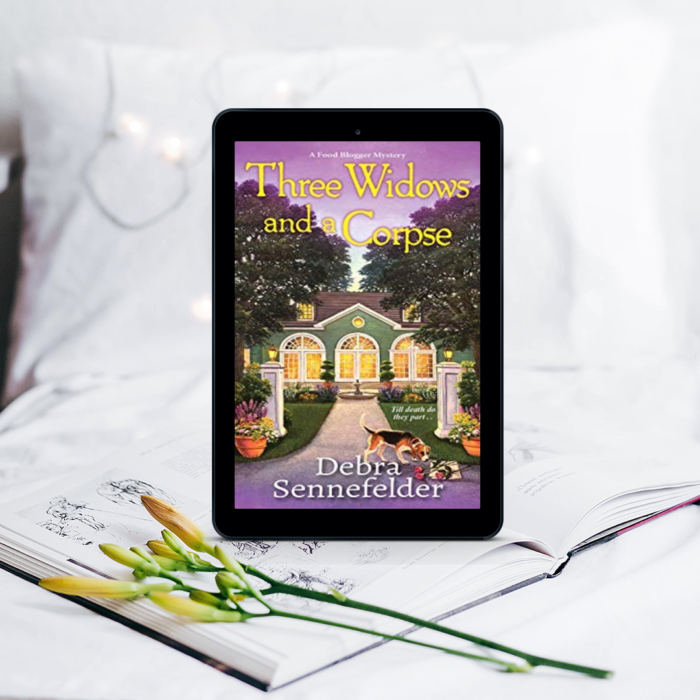 Food blogger Hope Early finds one item not on her scavenger hunt list—a dead husband . . .
Between developing her food blog, Hope at Home, and choosing low-cal recipes for a feature in Cooking Now! magazine, Hope has a full plate. Still, she's never too busy to compete in a Jefferson, Connecticut, tradition—the town's annual scavenger hunt.
But as she races with her team to check off the next item, Hope discovers a grisly surprise—the body of shady real estate developer Lionel Whitcomb, shot in a parking lot. His wife Elaine, who's also in the hunt, gasps and nearly faints. But two other women on the scene cry out that their husband is dead.
It turns out this louse of a spouse was more than a little lax in legally divorcing his former wives. Did one of them put a bullet in the bigamist? Number one suspect and number three wife Elaine begs Hope to investigate. Now Hope is on a new kind of hunt—for a cold-hearted killer and triple widow-maker . . .
Includes Recipes from Hope's Kitchen!
AVAILABLE AT YOUR FAVORITE E-BOOK RETAILER.