Whew! What a month June was! Between being buried by galleys, copy edits, a deadline, a WIP and a family member home unexpectedly thanks to an injury, it's been a bit chaotic. But now everything is back to normal (well, as normal as you can get when there's a writer in the house who plots murders) I can get back to reading for pleasure. And I totally missed my deadline for sharing my current reads (yes, I have plans of reviving this sad little blog 🙂 ) and with new projects started (like reviving this sad little blog for one) I don't have the time reworking the graphic. So pretty much, it is what it is. But the books are good!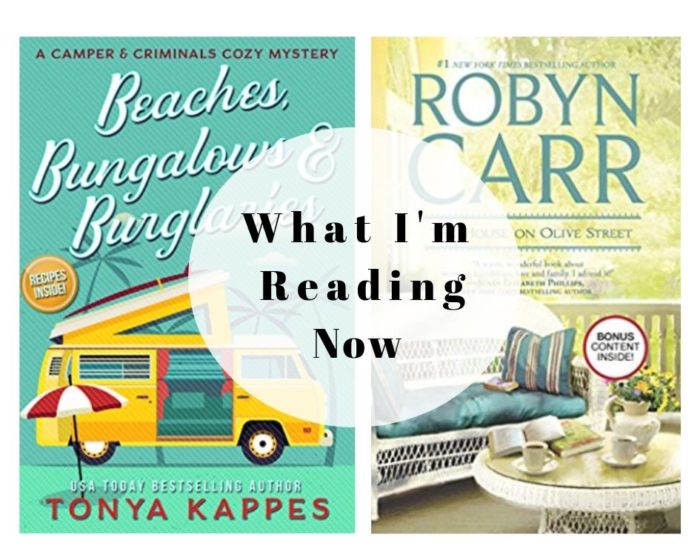 I didn't realize how much I missed curling up on the sofa with Billy and losing myself in a good story just for fun. All of the reading I've been doing the past couple of weeks has been for work and believe me, there's a BIG difference. For starters, while I'm reading either galleys or copy edits, I spend an enormous amount of time beating myself up. How did I ever think that was a good idea? WTF does that mean? OMG, seriously, I wrote that? There you have it, a glimpse into a writer's mind when she's reading her own work. Enough about my work.
Let's talk for a few moments about my current reads. Yes, I typically will read two books at the same time. They're usually different genres and in different formats. Beaches, Bungalows and Burglaries is a cozy mystery in ebook format with The House on Olive Street is women's fiction in paperback.
Now, this isn't going to be a review of either book, or for any books I read in the future. Here you won't find any negative comments because if I start a book that I don't connect with I just set it aside and since this is all about sharing my reads with you, I won't share if I'm not reading and enjoying the book. Okay? Good, let's continue.
Beaches, Bungalows, & Burglaries is the first book in the Campers and Criminal Mystery series by Tonya Kappes. Mae West has been thrown for a loop when her husband is sent to prison for a Ponzi scheme. She's left with nothing but a camper and a campground that should have been condemned years ago. With no money, skills and barely skirting free of prison time for herself (the Ex forged her name on legal documents) she has no choice but to make the Happy Trails Campground, well, happy again so that it's enticing to a buyer. But nothing is working the way she hopes especially when she learns her Ex has escaped from prison and then his body is found in the Happy Trails mucky green lake.
I'm into chapter five right now and loving this book! I see a book-reading binge in my near future. 🙂
The House On Olive Street by Robyn Carr is about the friendship of five women, one of whom is found dead in the first few pages of the book. Gabby has left a request for them and together throughout the summer they will sort through her personal papers and their own issues, some of which have been kept secret from the others in the group. I've just started the second part of the novel and I've been drawn in quickly to the world Robyn Carr has created. She's created very four different women and is slowing peeling back the layers of their lives so we learn how they got to where they are now in their lives and it's leaving me curious to find out what, if any, changes they will make and whether their friendships will remain intact. It's been a long time since I've read one of her books and I'm certain I won't wait so long to read another one.
I expect to be finish with these books very soon and I'll be looking for two more to dive into next. What book have you recently finished that you loved? Share below in the comments.