Happy Monday! Has spring come to your area? Spring showed up a couple of weekends ago and then quickly disappeared. What the heck is going on? I've seen some really crazy snow totals over the past few weeks. Now, understand I'm not a fan of hot weather (when we got a preview of  spring I was getting the A/Cs ready) but I do enjoy warm weather and sunny days. It would be nice to have spring back. I can totally do without summer. 🙂
A lot has been happening here. I released a book. I finished a first draft of a book. I started an Facebook reader group with eleven other authors. Yeah, it's been busy. But I'm loving every minute of it. Go ahead and grab your cup of coffee (I'll get mine) and I'll tell you a little about each one of those things.
My debut novel released on March 27th  and it was an amazing day. It felt like Christmas morning and the first day of school wrapped up into one. There was a flurry of activity online as blogs shared reviews of the book and as well wishes came from friends and family. I visited my local Barnes & Noble and saw my book on the shelf. Wow! Talk about a surreal moment. Then there were flowers from my husband and critique partner. There were text messages from those close to me wishing me a wonderful release day. Yeah, it was pretty cool.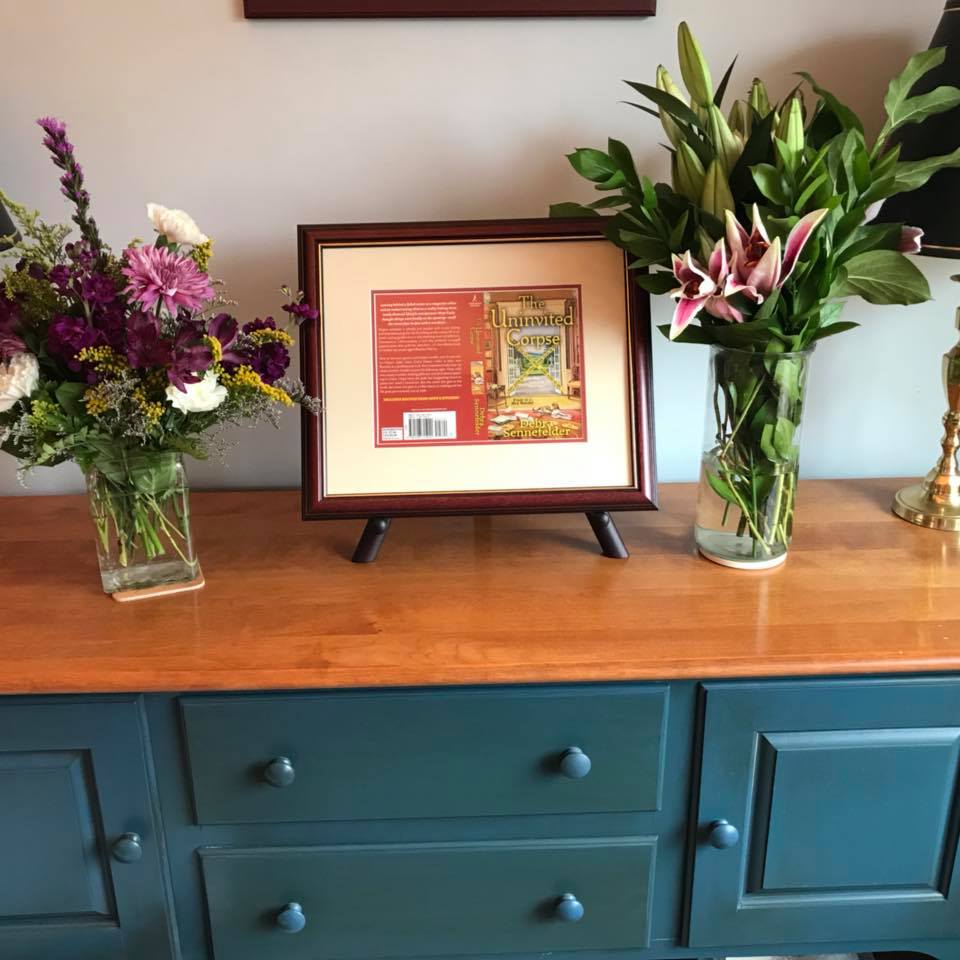 With the release behind me, it's now time to focus on what's next and that would be the second draft of book number 3 in the series. The first draft has been sitting aside quietly for about three weeks now and last week I pulled out my index cards and began going through each scene in the manuscript. On each index card I wrote a brief description of every scene. I added a few new scenes that I need to add into the manuscript somewhere. That's when my handy-dandy big kitchen island comes into play. All the cards are set out and it's time to arrange the the manuscript.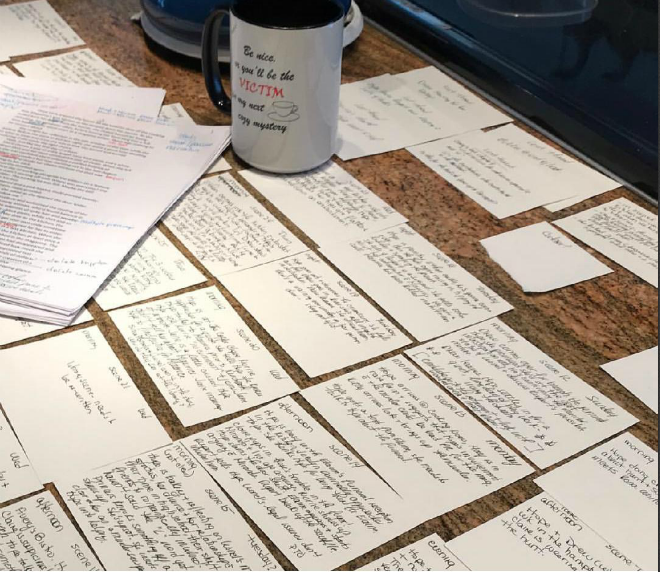 And just to keep things interesting, I started a Facebook group with eleven other cozy mystery authors for readers. We can't help ourselves, we're a group of cozy mystery authors with a flair for murderous mischief and a killer appreciation for our readers so we decided to pool our resources and start the new group. We plan to dish about all things cozy mystery, host giveaways, and celebrate special occasions. So far the response has been amazing. We're definitely feeling the love from our readers. Who are the other authors? Jenny Kales, Lena Gregory, Shari Randall, Sarah Fox, V.M. Burns, Linda Reilly, Bethany Blake, Jody Holford, Tina Kashian, Libby Klein, JC Eaton. Interested? Want to join? Come on over! Click here and you'll be directed to the group's page on Facebook.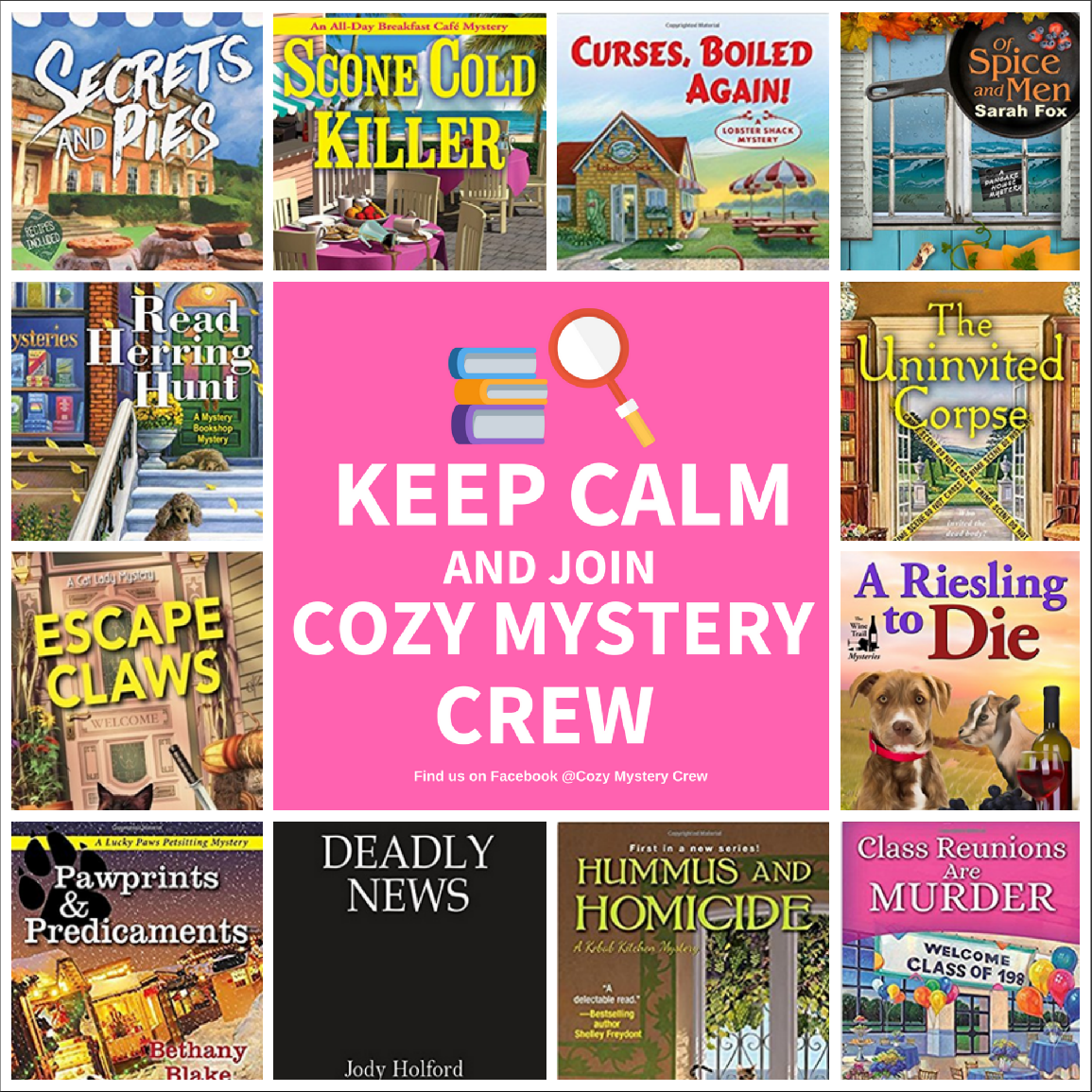 Yeah, it's been pretty busy here and there have been moments when it all feels overwhelming but I just remind myself that I'm doing what I always dreamed of doing so a couple of deep breaths, a quick workout and some cuddling with my pups usually sets things right. I'm looking forward to this new week. I'm diving into the second third of book 3 of the Food Blogger series. What are you up to this week?