Is it me or has the first couple of weeks of August flown by? Wasn't it just July? This has me thinking that the rest of the month may follow suit. We'll be celebrating Labor Day in no time. Well you know what that means. We have to finish up our summer reading and get ready for our fall reading. 🙂 Luckily my publisher, Kensington, has put many, many books on sale this month and among those sale books are several first-in series books so you can start a new series with a discount!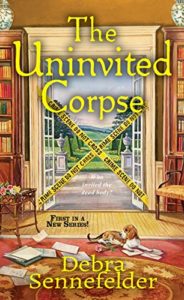 THE UNINVITED CORPSE
Book one in the Food Blogger Mystery series
Leaving behind a failed career as a magazine editor and an embarrassing stint on a reality baking show, newly divorced lifestyle entrepreneur Hope Early thought things were finally on the upswing–until she comes face-to-face with a murderer . . .
Hope's schedule is already jam packed with recipe testing and shameless plugs for her food blog as she rushes off to attend a spring garden tour in the charming town of Jefferson, Connecticut. Unfortunately, it isn't the perfectly arranged potted plants that grab her attention–it's the bloody body of reviled real estate agent Peaches McCoy . . .
One of the tour guests committed murder, and all eyes are on Hope's younger sister, Claire Dixon–who, at best, saw Peaches as a professional rival. And suspicions really heat up when another murder occurs the following night. Now, with two messy murders shaking Jefferson and all evidence pointing to Claire, Hope must set aside her burgeoning brand to prove her sister's innocence. But the closer she gets to the truth, the closer she gets to a killer intent on making sure her life goes permanently out of style . . .
To buy THE UNINVITED CORPSE click here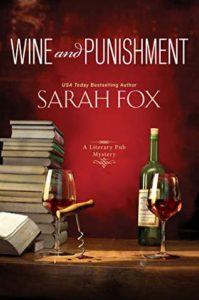 WINE AND PUNISHMENT
Book one in the Literary Pub Mystery series
In the first in an engaging new mystery series from USA Today bestselling author Sarah Fox, the owner of a charming literary pub finds her fresh start on the rocks thanks to a case of murder.
Booklover Sadie Coleman knows that in life, as in fiction, the right setting can make a world of difference. The small town of Shady Creek, Vermont, seems like the perfect place to start over after losing her Boston job to a merger and her relationship to her ex's gambling addiction. She's bought and redecorated the old grist mill pub, transforming the Inkwell into a cozy spot where tourists and regulars alike can enjoy a pint or a literary-themed cocktail, or join one of several book clubs.
Little by little, Sadie is adjusting to the rhythms of her new home. Fall in Shady Creek is bookmarked by the much-anticipated Autumn Festival, complete with a pumpkin catapult competition and pie bake-off. Unfortunately, the season also brings an unwelcome visitor—Sadie's ex, Eric, who's angling for a second chance . . .
Before Sadie can tell Eric to leave, he's found dead near the Inkwell. When the local antique shop catches fire on the same night, it's clear the town is harboring at least one unsavory character. Now, with her Aunt Gilda, her friend Shontelle, and the pub's patrons all in the mix, Sadie must uncover the truth . . . before a killer declares last call.
To buy WINE AND PUNISHMENT click here.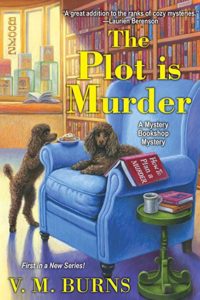 THE PLOT IS MURDER
Book one in the Mystery Bookshop series
The small town of North Harbor on the shores of Lake Michigan is about to have a new mystery bookstore. But before the first customer can browse its shelves, the store's owner is suspected of her own murder plot . . .
Samantha Washington has dreamed of owning her own mystery bookstore for as long as she can remember. And as she prepares for the store's grand opening, she's also realizing another dream—penning a cozy mystery set in England between the wars. While Samantha hires employees and fills the shelves with the latest mysteries, quick-witted Lady Penelope Marsh, long-overshadowed by her beautiful sister Daphne, refuses to lose the besotted Victor Carlston to her sibling's charms. When one of Daphne's suitors is murdered in a maze, Penelope steps in to solve the labyrinthine puzzle and win Victor.
But as Samantha indulges her imagination, the unimaginable happens in real life. A shady realtor turns up dead in her backyard, and the police suspect her—after all, the owner of a mystery bookstore might know a thing or two about murder. Aided by her feisty grandmother and an enthusiastic ensemble of colorful retirees, Samantha is determined to close the case before she opens her store. But will she live to conclude her own story when the killer has a revised ending in mind for her?
To buy THE PLOT IS MURDER click here.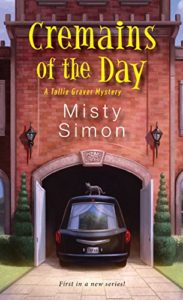 CREMAINS OF THE DAY
Book one in the Tallie Graver series
There's no reverse on the hearse . . .
For Tallulah Graver, marrying wealthy Waldo Phillips seemed like the best way out of the family business, the Graver Funeral Home. But when her marriage falls apart and Tallie is left with next to nothing, she turns to cleaning houses to make ends meet. As humbling as it is to tidy the mansions of the snobby socialites she used to call friends, at least she doesn't have to be around dead bodies. Until . . .
She discovers one of her employers lying in a closet with a knife sticking out of her chest. This unpleasant shock seems to be part of a web of weird experiences: Tallie's friend Gina's shop is broken into, her ex is stun-gunned where it hurts the most, and now she's receiving flowers from the dead woman. Granted the deliveryman is handsome, but seriously, that's enough to cast a pall over anyone's day. Now Tallie needs to dig deep to clean up this mess—before she finds herself in a grave situation.
To buy CREMAINS OF THE DAY click here.
I hope you'll find this short list of first-in series sale books helpful because we all know our TBR piles are never quite tall enough. 🙂